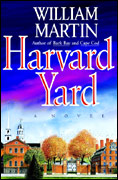 ISBN - 0-446-53084-0

Special Price
List price: $25.95
Our price: $16.00 (You save: $9.95)
(Yes, its cheaper than Amazon.com!


"

eople came from all over the world to see it, as if it were another Plymouth Rock or Vatican. Peter Fallon understood. It was the beginning of things and the center of things…rich, full of itself…and full of intrigue." -from HARVARD YARD
A tale of families, rebellion, war, and devotion, William Martin's new novel chronicles the life of America's most revered university and the real men and women who made Harvard what it is today. It is also the riveting story of a high-stakes treasure hunt…for "a small gift of majestic proportions."
From the year it was established on the edge of the American wilderness-funded by a quarter of the colony's tax levy and a gift from one remarkable man-Harvard lived in the eye of a ceaseless storm: a profound conflict between ignorance and enlightenment, faith and reason, elitism and equality.
Now, three hundred years later, Peter Fallon-the hero of William Martin's bestselling novel Back Bay-has found evidence that an undiscovered Shakespeare play is hidden somewhere at the college. An antiquarian who knows many of Harvard's carefully guarded secrets, Fallon understands the powerful implications of the discovery. But as he sorts through the school's past, from witch hangings to the fires of the Civil War to the riotous 1960s, he realizes that men and women have risked death, disgrace, and banishment for the very secret he is seeking. As Fallon relives conflicts between generations, families, friends, and lovers, he begins to understand something else: that finding this treasure is a matter of life and death.
Following the destiny of one family from the first class of Harvard to the present day, HARVARD YARD is a brilliant work of historical fiction, a beguiling mystery, and an extraordinary saga of the shaping of the American mind.