The Chairmen of Chairtown, USA
A Visit to the Lombard Mill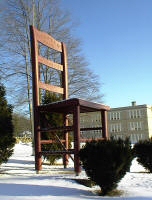 The town of Gardner, Massachusetts has the distinction of being the site of the largest chair in the world. Standing forty feet tall in front of the high school, it stands testament to the town's fame. For over a century, this one town was the source of more chairs than any other city in the US.
During the last quarter century, however, most of the local furniture factories serving the high-end institutional market have gone out of business due to competition from overseas suppliers. It is cheaper for Asian firms to import the wood, make the chairs, and export them to the U.S. The only firms remaining are those large enough to make the conversion to large, computer-controlled production environments, or smaller mills that produced small runs of higher quality products at a premium price.
Of the latter, one of the last remaining full-run mills is the F.W. Lombard Company, founded in 1897, currently owned and managed by M.I.T. grad Carl F. Mellin. Lombard, technically in Ashburnham, about a mile from Gardner, makes high quality chairs the old fashioned way, from drying kiln to spray booth. Lombard, which is housed in an ancient 19th century mill complex, has never updated. It is one of the very last of its kind. As some of its oldest tooling is no longer made, it does specialized work such as steam wood bending for other high-end firms.
The rest of its daily work is crafting some of the finest college, library, and top of the line institutional furniture in the country. Lombard's clients, which includes Harvard, read like a list of the finest schools, prep schools, universities and libraries. When the USS Constitution, "Old Ironsides" was refitted, they came to Lombard for the authentic captain's chairs in the officer's wardroom. When it came to finding a workshop that could meet the standards of a premium Harvard chair, there was no question. Lombard has always made the best chairs for the best schools and institutions, the traditional way.